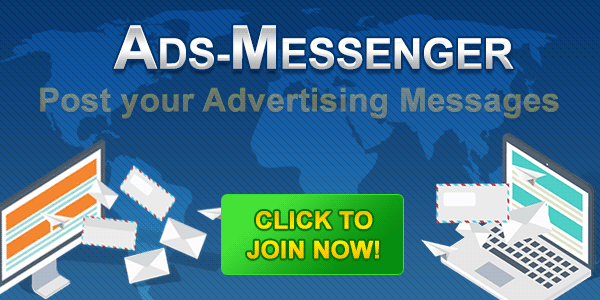 Ads Messenger
, It's an advertising site that went live about 2 to 3 weeks ago and based on the multitude of emails I got from a lot of the viral mailer owners out there I got the impression that this site was offering old timey money sacks (💰) full of market proof cryptocoins with the power of never losing value.
Bitcoin is worth more than GOOOOLLD!! I can see no issue with it being an intangible product with no application outside of a virtual environment.

That isn't quite what this site is offering. This site is basically the love child of a classified AdBoard and a SafeList mailer, and if either the AdBoard or Mailer responsible wants to admit to that night of passion feel free in the comments section, I won't judge. Anyway the way this site works is quite simple, members post their ads in the ad section and fellow members view those ads for credits toward their own ads. The ads are set up like any other safelist or viral mailer out there but instead of being sent to your email or an in site inbox they get posted to an adboard (users will never receive email ads from other members so it's cool to use your regular email). The twist here is that every ad posted to the adboard is guaranteed to stay posted until it receives 100 views/clicks or our sun implodes, thereby ending humanity.
NOOOOOOO, my ads messenger post only has 99 clicks on it!!!
The only downside to this site is that in order to make good on the all-ads-get-100-views guarantee, each member must first view 150 other posts before posting their own ad (slightly less for paid members), which in my opinion is a tad high. In fact, upon the sites launch a major problem was not enough ads to view, although that's no longer the case. I foresee a lot of casual sign ups tapping out and going elsewhere before they reach the necessary 150 views required to post their own ads. That being said, I did tough it out and viewed 150 ads so that I could post my own and I'll go on record as saying I'm pleased with the results I got. Not only pleased but surprised, I posted an ad for
LeadsLeap
, which isn't exactly unknown but I freaking love that site so went with it and despite expecting to get 0 to 1 sign ups I received 4 (2 of which are still active).
Here are the results that a prominent viral mailer owner had with the site
So while the requirements to post might seem high, something about the format seems to make users more open to joining offers, whether it's the hype of the new site or because the ads messenger format is a format people see as a place to look for new sites or biz opps to join has yet to be seen but for now it's a hot spot for getting eyes on your offers and possible leads.