A lot of people know I'm a big fan of free traffic sources and I often get asked what I do to drive traffic to my sites. The cop out answer is that I use a whole bunch of resources, too numerous to list in a single blog post. But in an effort to not cop out I figured I'd just start throwing out quick over views of free traffic resources that I like or think have a useful feature or one that has a design I think looks cool (ok, so sometimes my reason for using a site isn't the best of reasons, but looking cool is still important). So anyway yeah here we go:
RotatorTrafic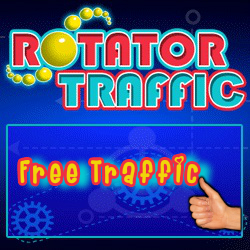 First off, I'm going to give the site owner the benefit of a doubt and assume that the domain name RotatorTraffic.com(with two Fs) was unavailable, so he had to go with RotatorTrafic.com.
This site doesn't have the largest user base but there are several members that surf regularly so you'll get hits. What I like about this site is a feature which helps it stand out from the crowd while earning you a good amount of traffic. Surfing 25 sites at RotatorTrafic on any given day will unlock the option to claim an Upgraded account status for 24 hours, which is pretty damn handy. And this is available every single day if you want it.
If a quick one day boost of traffic is what you need this site might be one to consider. At times it's probably not the most engaged traffic, but still, getting your ads out there for free is always a plus. My recommendation for this site is to surf it as a source of supplemental traffic when you've got some free time to bump up traffic numbers but your time would be better spent elsewhere when it comes to your primary roster of TEs.
Site Highlight
:
Free daily account upgrade after 25 sites surfed
Surf Ratio
: 3:1 Free, 1:1 Upgraded
Surf Timer
: 6 seconds Free, 3 seconds Upgraded
Occasional Prize Pages